Kolobok Train
I would like to invite you all, artists and members, to help build "The Kolobok Train"!
Я хотела бы пригласить всех Вас, художников и простых форумчан, помочь построить "Поезд колобка"!



Just use one of the train car bases I provide, or make your own. It can be animated, or non-animated.
QUOTE (Vala @ Mar 24 2009, 12:46 AM)
to all authors: please choose 60 px for hight: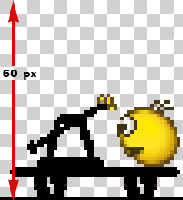 Просто воспользуйтесь одним из вагонов, которые нарисованы мной или сделайте свой собственный. Он может быть как анимированным так и не анимированным.
Просто воспользуйтесь одним из вагона баз я предоставить или сделать свой собственный. Она может быть анимированный, или не анимированные.
Train car base for your use ( Вагончики поезда, которые Вы можете использовать )~>